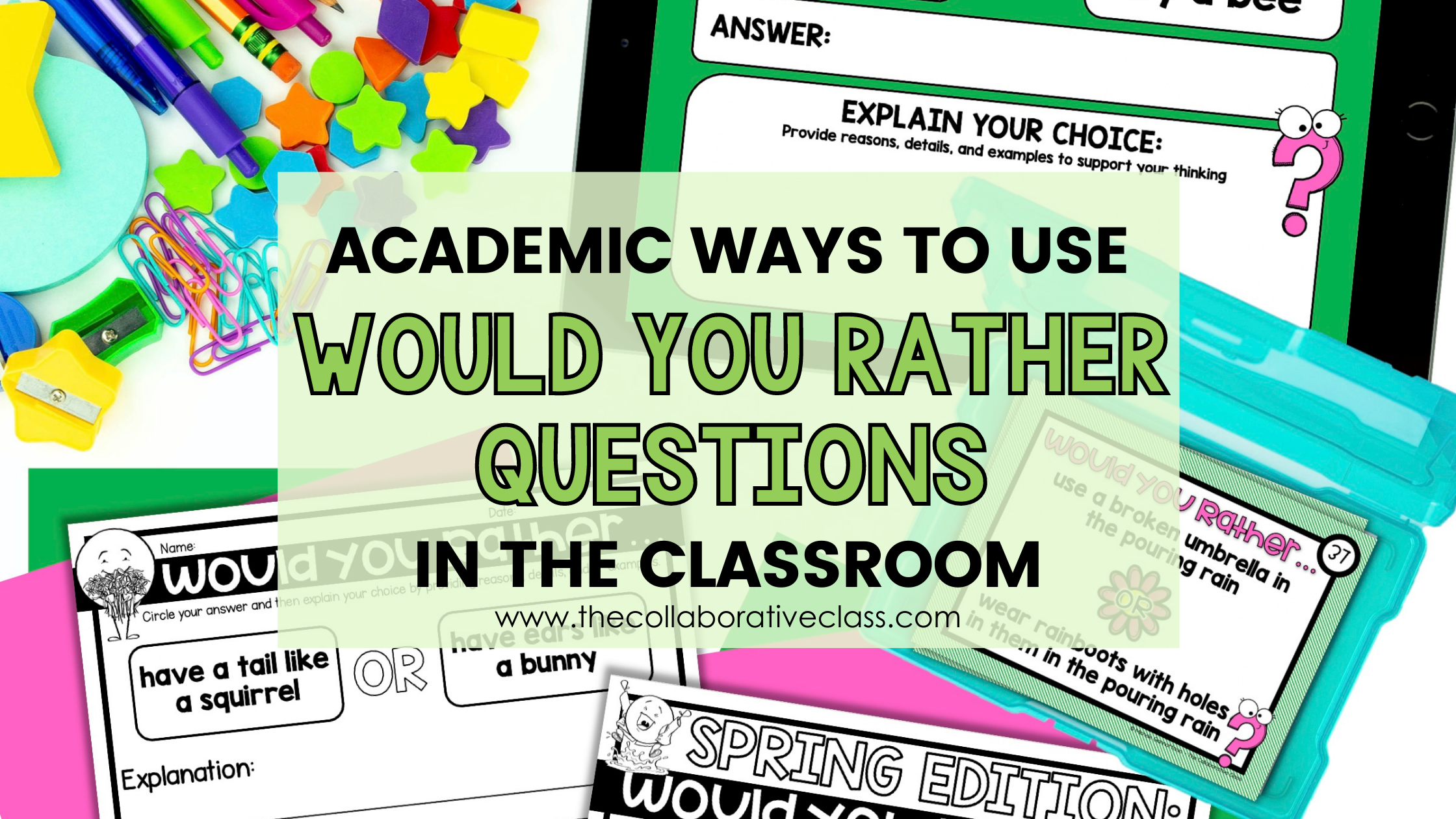 Have you ever met a kid who doesn't love playing Would You Rather? Because I certainly have not! When planning instructional activities with my students, I'm always thinking about games or activities that I know they love and trying to figure out how to put an academic spin on them so that we all have fun while learning at the same time. I have found that it is actually super simple to make Would You Rather questions for kids academic.  
Here are some of my favorite ways to use Would You Rather Questions for kids in the classroom:
MORNING MEETING ACTIVITY
I always make sure that I have some type of share and game/activity built into my morning meetings. One of the great things about using Would You Rather for morning meeting is that you can use it for both a share and a game/activity! 
On days you have more limited time, simply ask a Would You Rather question that students quickly turn and talk to discuss and then share a few answers with the class.  On days you have more time, turn it into a fun game where students march to different sides of the room to show their answers.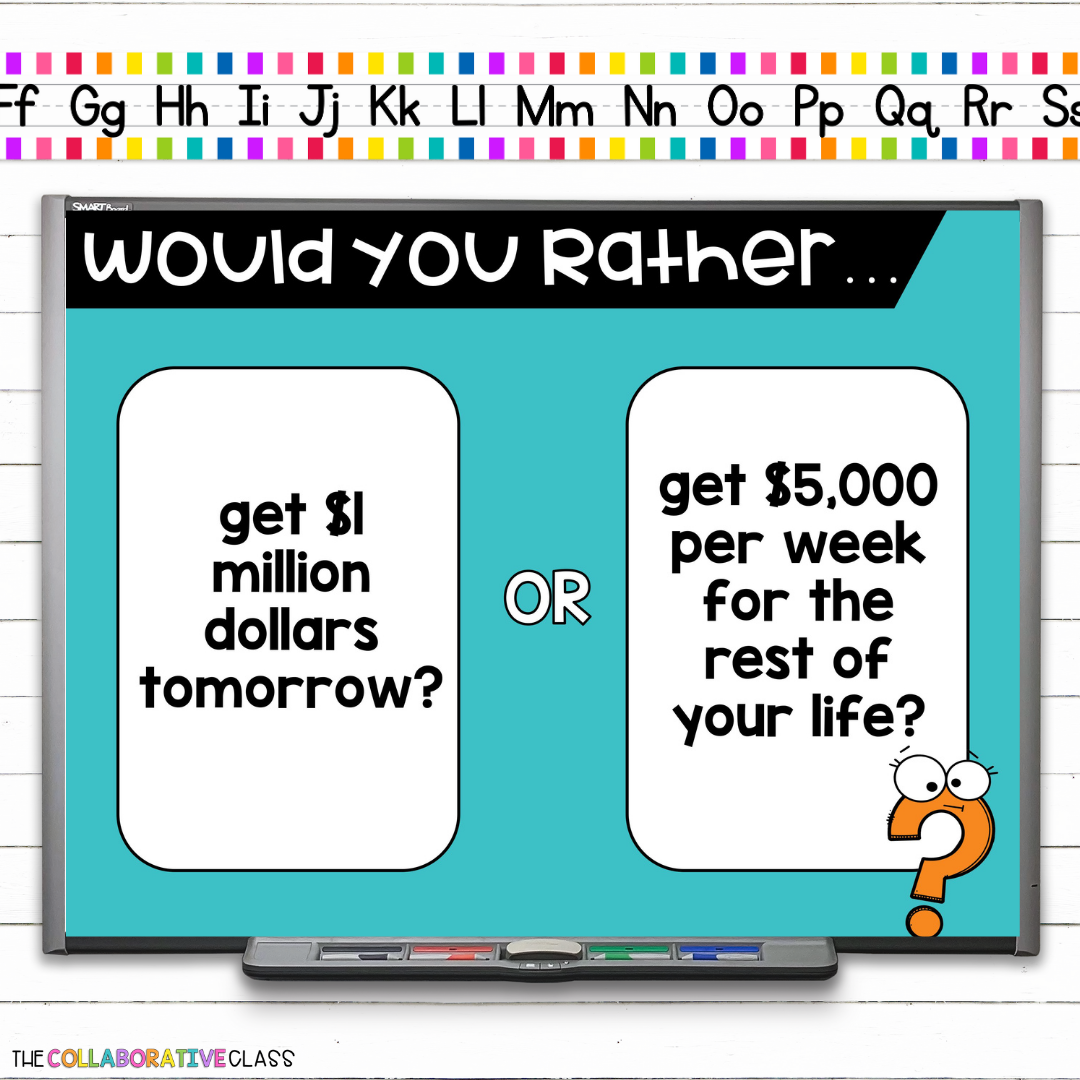 BRAIN BREAKS
Use Would You Rather Questions to help students engage more with academic content by using them as brain breaks! Since they're fun, they provide the perfect light hearted break needed when working on rigorous content.  Depending on how much time you have you can ask just one or multiple questions.  If students need a movement brain break, here are a few ideas to try:
Answer Choice A: Stand up & Answer Choice B: Remain seated

Answer Choice A: Walk to one area of the classroom & Answer Choice B: Walk to another area of the classroom

Answer Choice A: Clap your hands & Answer ChoiceB: Pat your head

Answer Choice A: Jump up and down & Answer Choice B: Squat down on the floor
The possibilities are endless! Great creative or even ask students to come up with movement ideas that go along with the questions.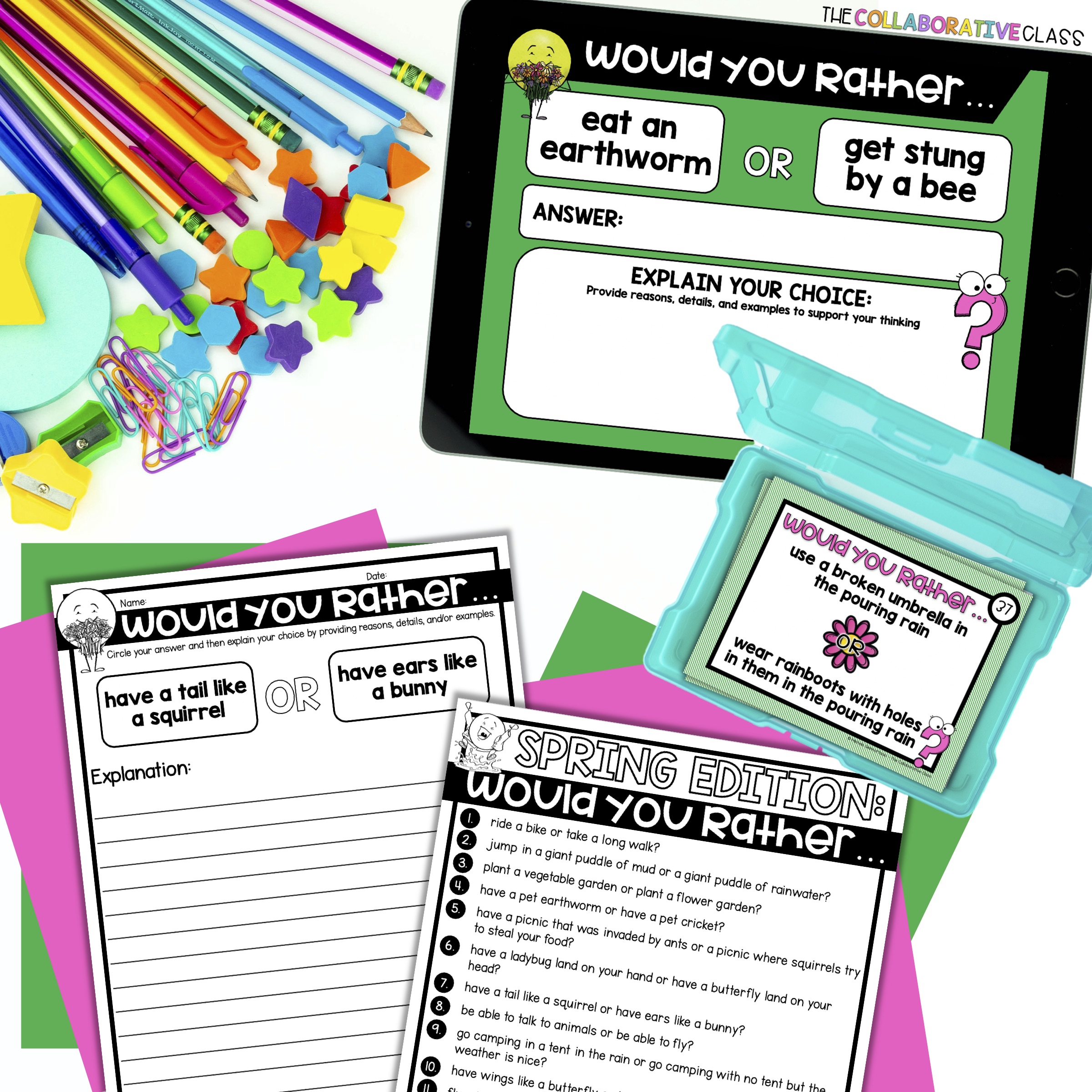 WRITING WARM UP
I absolutely love using Would You Rather questions as writing activities.  I find that students are much more willing to write and actually WANT to write to tell you their opinion about a silly Would You Rather question. It's a perfect way to get their brains and writing skills warmed up. Just present them with a question and give them a few minutes to jot down their answers in their notebooks. During these warm up activities, I treat them more as free write activities.  I'm not looking for students to write perfectly, but rather just get their thoughts onto paper and get their brains flowing.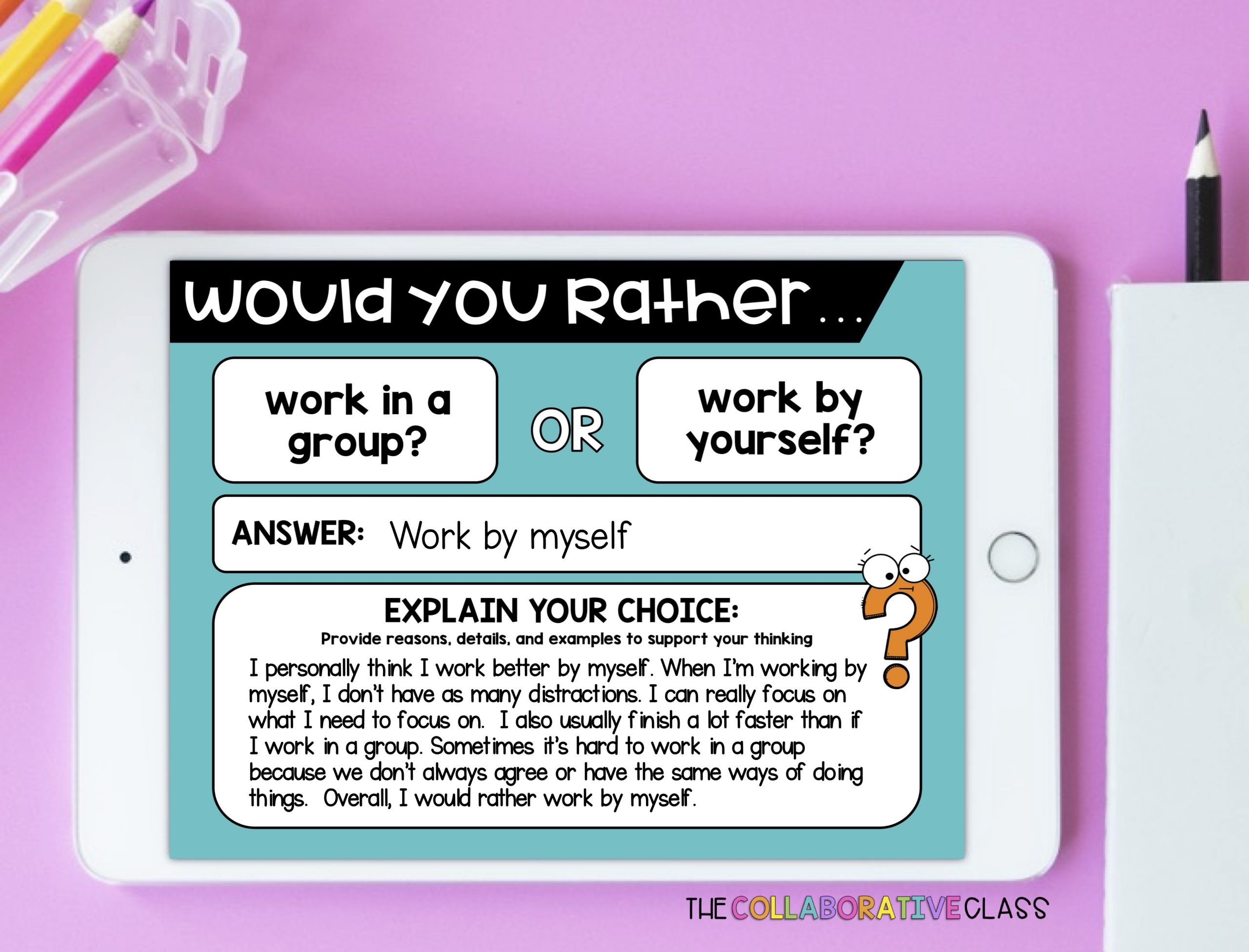 ELA OR LITERACY CENTERS
Would You Rather questions are staples in my literacy centers.  When I add these questions to a literacy center, it's more in depth than just a simple writing warm up.  I mentioned before how writing warm ups are more free writing activities. However, when I add Would You Rather questions as a center activity, I require students to be more formal with their writing.  
I have both digital and printable versions and usually let the students prefer which type they would like to use.  They read the question and then write an opinion paragraph that supports the answer to the question. I also remind students to go through the whole writing process when working on their responses.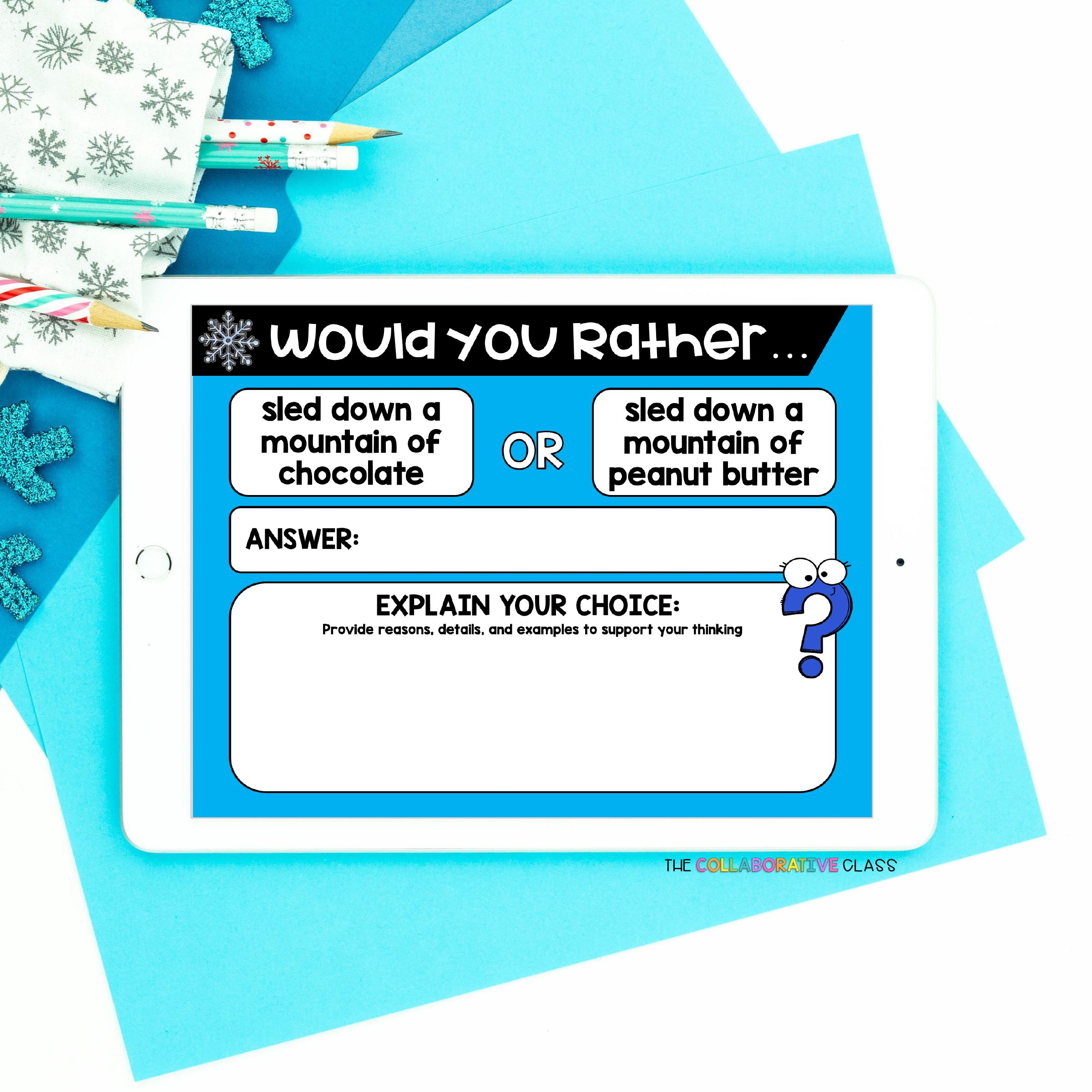 INTRODUCTION TO AN ARGUMENTATIVE OR OPINION WRITING UNIT
Need an engaging way to start your opinion writing unit?  Open it up with silly Would You Rather questions! The whackier the questions for this, the better! It's all about getting students engaged.  You can use those silly questions to demonstrate the basics of stating an opinion and supporting it with specific reasons.  Because Would You Rather questions are often silly, students pay attention and want to participate more than if a more typical example was being used as an introduction.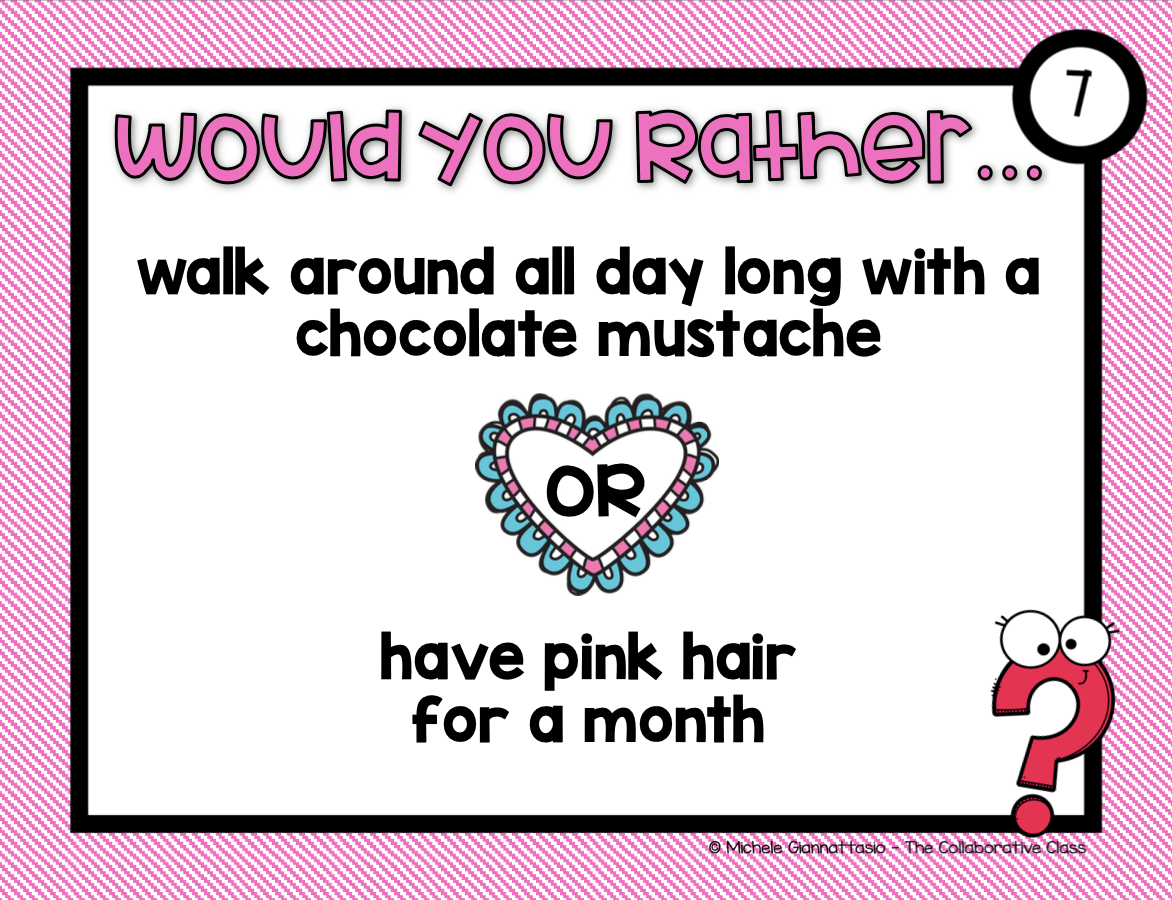 PRACTICE FOR SPEAKING AND LISTENING SKILLS
Holding classroom debates is one of my favorite ways to practice speaking and listening skills.  Would You Rather questions make for the perfect debate topics! I love selecting a question that I know will have a pretty even split of answers and then set up mini debates for my students to express and support their answers.  You can make this as informal or formal as you want! We love to set our classroom up like a courtroom and "present the evidence" to the "jury" when we do this.  If you haven't held a classroom debate using Would You Rather questions before, I highly recommend it! It's such a fun experience and you hit all of those speaking and listening standards at the same time.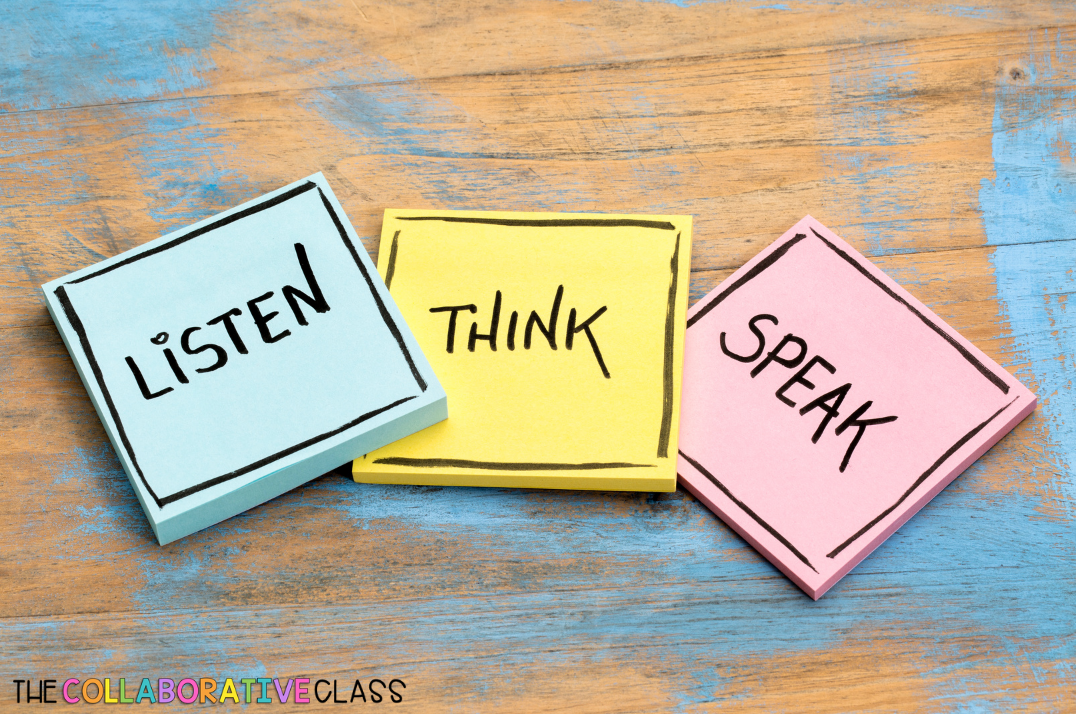 CHARACTER EDUCATION DISCUSSIONS
Often Would You Rather questions are silly and fun, but they don't all have to be! I also make sure that I incorporate questions that are on the more serious side as well so students use their critical thinking skills and also have some character education tied in as well.  
When teaching Character Education, Would You Rather questions can be a great tool to use.  Simply present the questions and ask students to see which scenario/statement they identify with more, think is a better option, etc. 
For example, would you rather cheat to get a good score on a test, or get a lower score but know that you tried your best?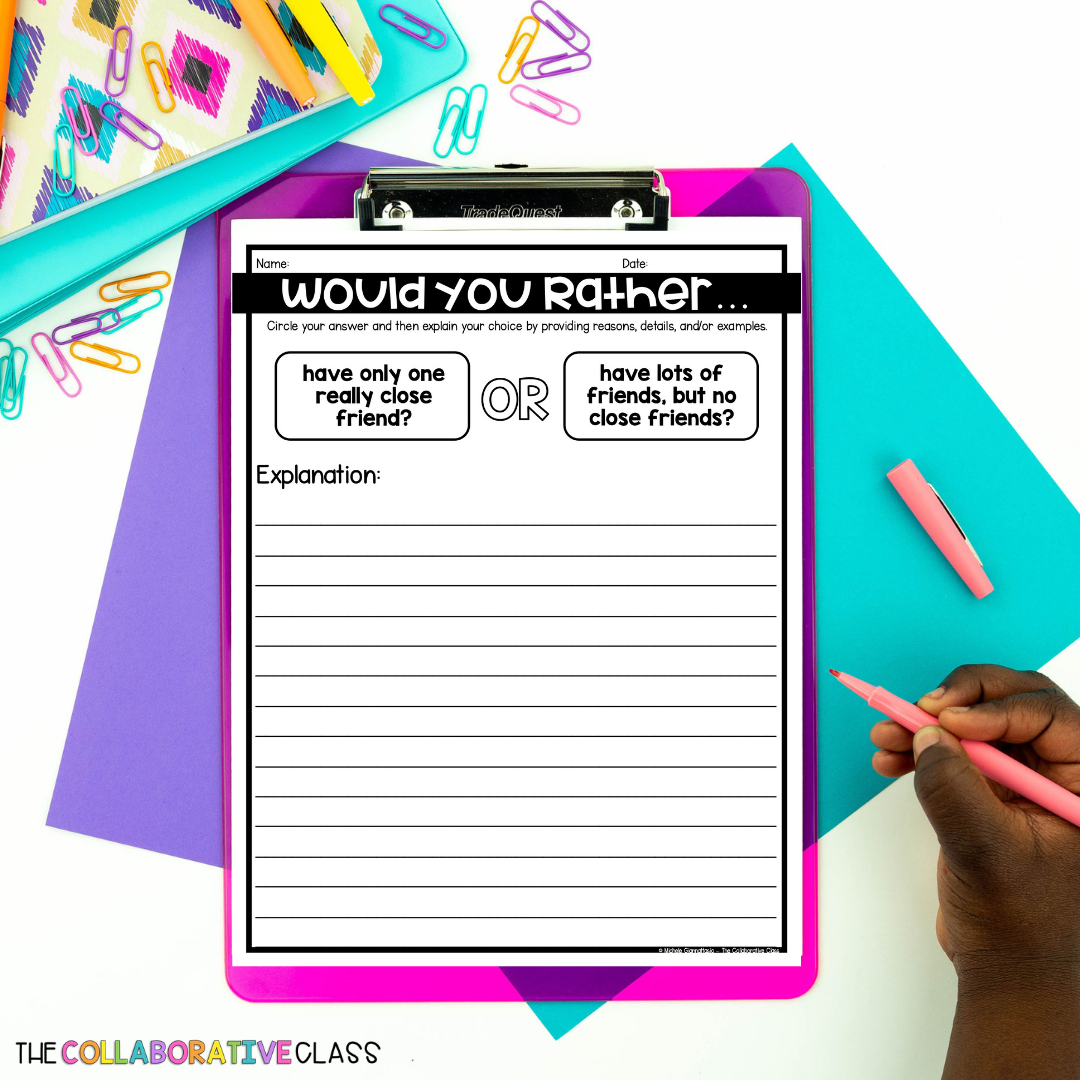 EARLY FINISHER OR SUB PLAN ACTIVITIES
As teachers, we are always looking for fun activities that we can leave for students to work on independently when they finish early or if we are absent for the day. Would You Rather questions are perfect for this.  They're easy to prep, are able to be completed independently, and students enjoy them! Leave them in the early finishers bin or pop them in your sub tub and your students will thank you!
I hope you enjoyed learning about how I used Would You Rather questions in my classroom.  Do you have any other unique ways to use this fun activity? If so, leave a comment and let me know! I'd love to hear about them.
Shop This Post:
Want to Save This for Later?
Pin this to your favorite Pinterest boards so you can refer back to it later!