As we approach Martin Luther King Jr Day, here are six Martin Luther King activities to celebrate and honor the legacy of this important historical figure in your classroom.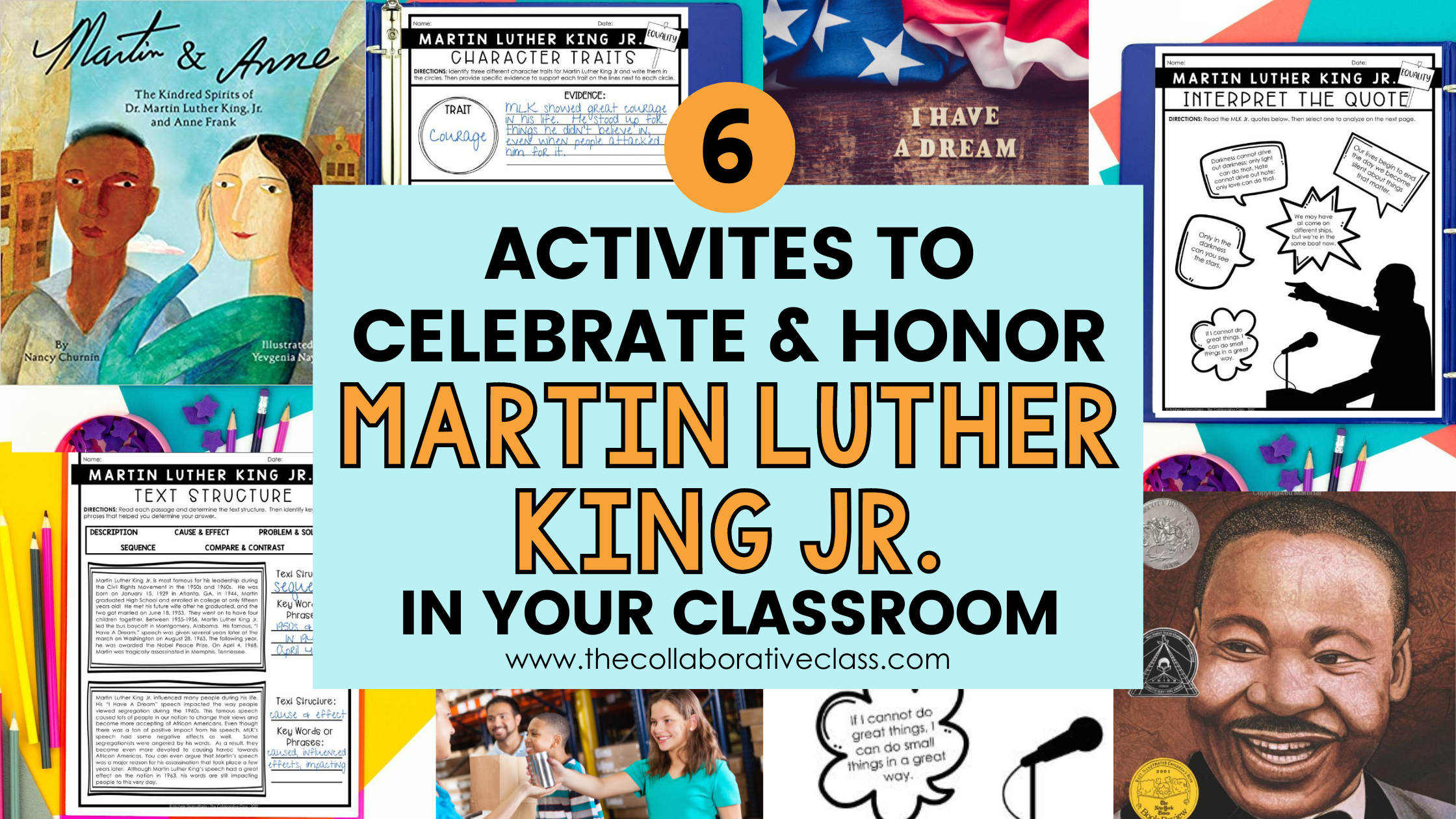 1. Read Aloud Texts About Martin Luther King Jr:
First and foremost, I always love using picture books to start off a discussion about a historical figure.  "Martin's Big Words: The Life of Dr. Martin Luther King Jr." by Doreen Rappaport is my tried and true choice every year. This book does an excellent job of giving background information to students who are unfamiliar with the legacy of Dr. King.  It explores his life and highlights his famous "big words" that have made a lasting impression on the world.
Another amazing book I recently found that I also recommend is  "Martin & Anne: The Kindred Spirits of Dr. Martin Luther King Jr. and Anne Frank" written by Nancy Churnin.  The book connects the lives and stories of MLK and Anne Frank through the lens of two children, one from each of their perspectives. It explores the similar struggles they both faced, as well as the messages of hope and resilience they both left behind.
Both of these books are perfect for Upper Elementary Classrooms.
2. Analyze Noteworthy Quotes from MLK: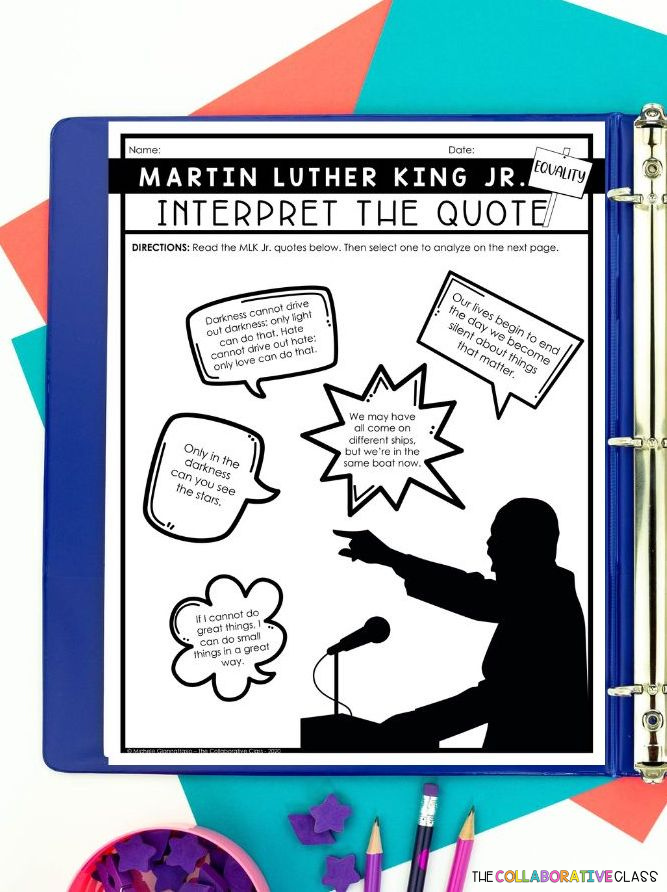 Encourage students to read and discuss some of Dr. King's most famous quotes. Have them think about what these quotes mean, and how they relate to Dr. King's life and message.
Analyzing MLK's quotes can benefit students in numerous ways.
For example, by understanding the quotes in the context of the Civil Rights Movement, students will gain a deeper understanding of the social and political issues that Dr. King was addressing during his lifetime.
Additionally, by examining the quotes and discussing their meanings, students will develop their critical thinking and analytical skills. They will learn to infer meaning and make connections between the quotes and the broader issues they address.
And lastly, it encourages empathy and understanding. Reading and discussing Dr. King's quotes can help students understand the experiences of people who were, or are, affected by racism and discrimination. It can help them develop empathy and understanding towards others, and learn to stand up for what is right. This activity is included in my Martin Luther King ELA activities resource.
3. Analyze Dr. King's Character Traits: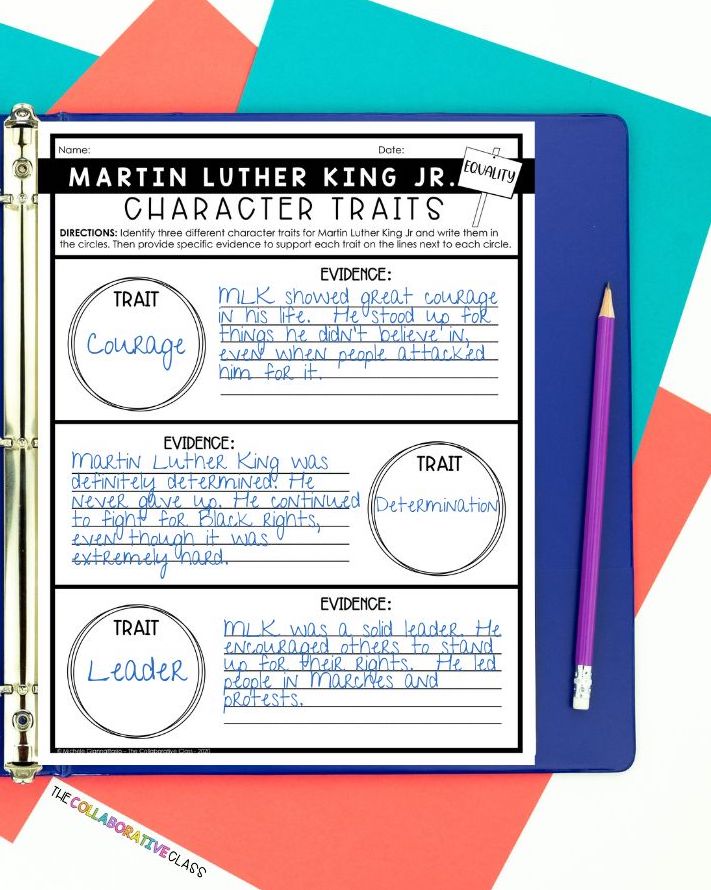 Analyzing the character traits of Martin Luther King Jr. can be beneficial for upper elementary students because it allows them to better understand and appreciate his contributions and leadership as a civil rights leader. It also helps students to understand the qualities that made him an effective leader and how they can apply those qualities in their own lives.
This is a great way to tie in language arts skills into your lesson as well.  After you read aloud or students research MLK, they  use text evidence to support why they chose the traits they selected.  This activity is included in my Martin Luther King ELA activities resource.
4. Research Project
Create a research project that allows students to learn more about Dr. King's life and work. This can include topics such as the Civil Rights Movement, the Montgomery Bus Boycott, and the March on Washington.
Split students up into groups and have them research together and create a Google Slides presentation to share the information they learned.
The website Get Epic! is one of my favorite resources to use when having my students research independently. There are so many amazing nonfiction picture books at a variety of different levels that they can use to gather information and take notes.  Not to mention, most books on the site also have the ability to have them read to students, like audiobooks. This site is free for teachers and students during school hours.
5. Creative Writing:
Encourage students to write a poem, story, or essay about Dr. King and his impact on society.
This is one of my favorite ways to engage students in a fun and meaningful way.  I often give my students a choice board of various writing activities to choose from so one applies to their interests.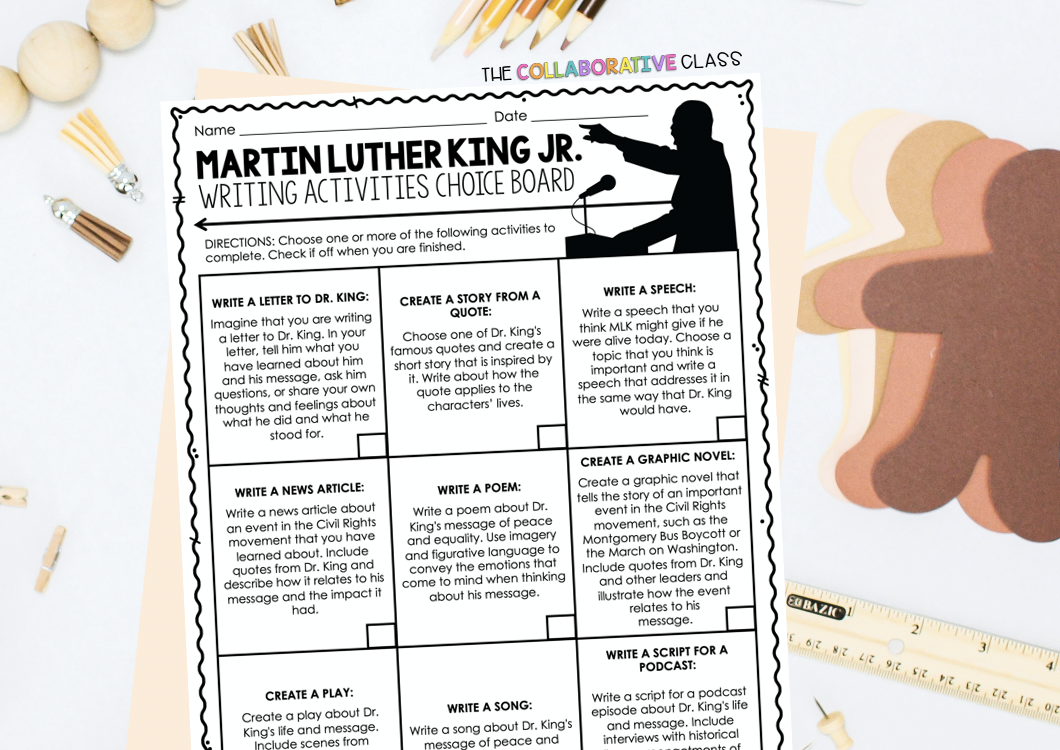 6. Service Project:
Discuss how Dr. King dedicated his life to serving others, and inspire students to do the same by having them participate in a service project in their community. This can include volunteering at a soup kitchen, collecting clothes for a local charity, or writing letters to people in need.
Looking for Even More Martin Luther King Activities for Your ELA Classroom?
Click below to grab some ready to go ideas and Martin Luther King activities to use for MLK Day. This resource features the quote analysis and character trait activities featured above PLUS a text structure activity as well!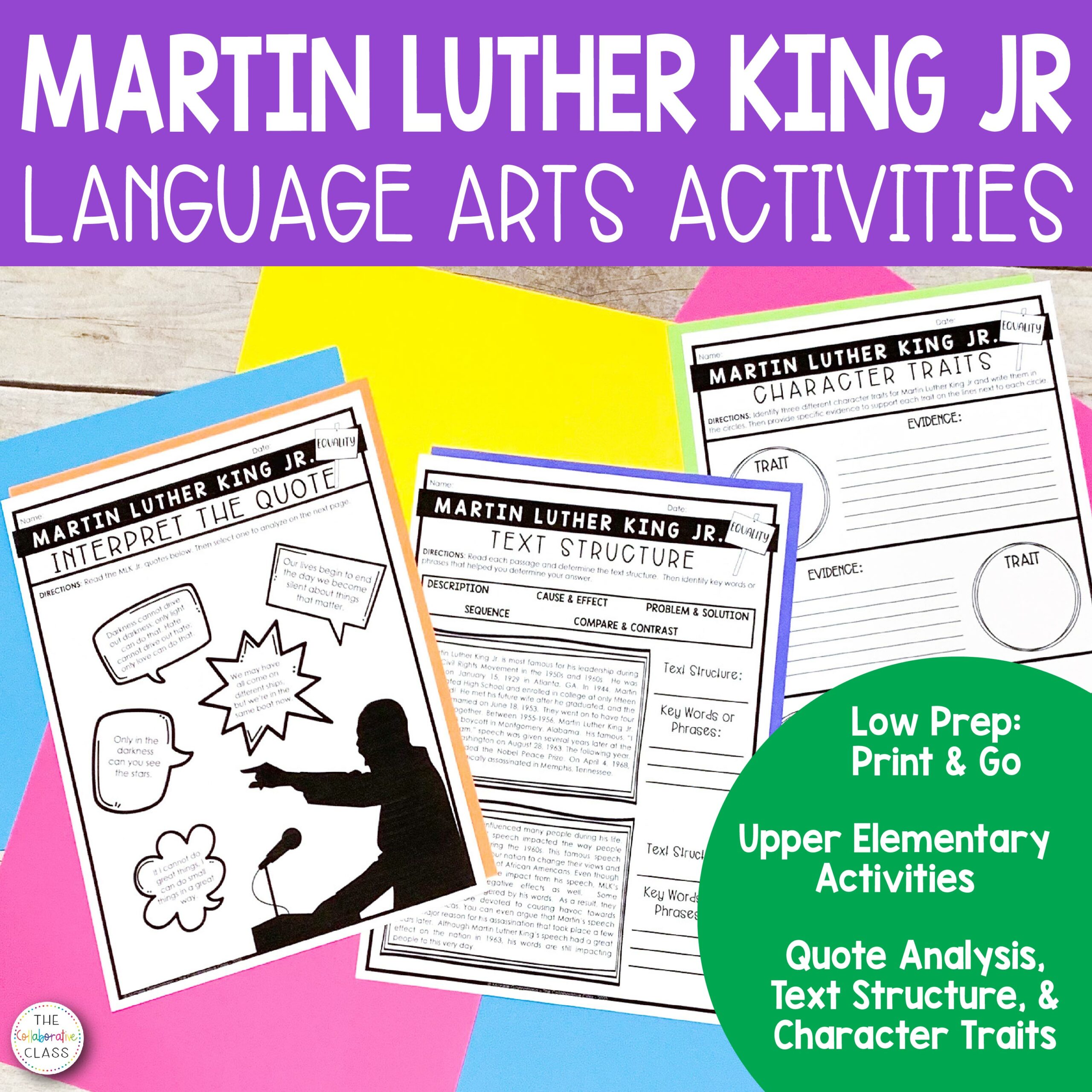 You can also find additional Martin Luther King activities featured in my January ELA Skills Print & Go packet.  This resource features an informational text about Martin Luther King Jr. with a focus on nonfiction text features.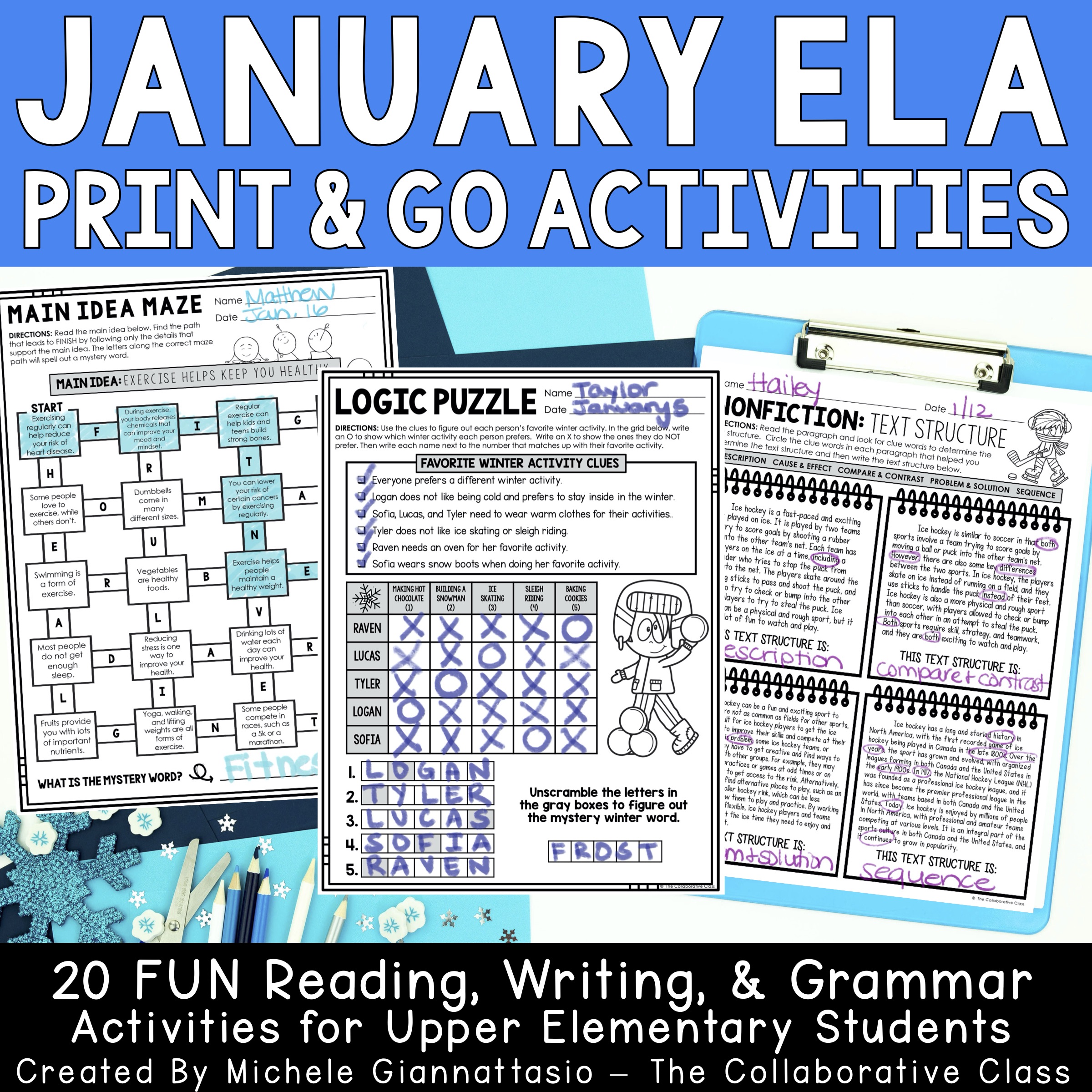 Want to save this for later? Pin the image below!